I've been having a lot of trouble thinking of things to post about in my blogs... Yeah I can talk about writing a song; yeah I can write about how hard everything is. No one wants to read that. If I want interesting stuff to post about, I need to start doing interesting stuff. For the long weekend, me and my girlfriend went on a bit of a road trip and that's what I'm gonna talk about (still pretty much entirely music related).
Ok so, for the last round of OAC Creation grants I submitted a project in which I'd go to a bunch of specific places in Ontario and personify a landmark in a song. I didn't get the grant and they were nice enough to give me some feedback on how to improve my application for next time. I still really like the idea because it gets me out into the world and seeing things that I'd never really think of checking out just because. Anyway, the point of me saying all this is one of the things that I was going to write about was the Lions Head lighthouse so this past weekend me and Jessa went on a bit of a road trip from the cottage to check it out and maybe get some cool pictures for the song.
It was lame. It was the smallest lighthouse I'd ever seen and I was kinda pissed that we drove all the way out there for it. If I had done my own research I would have known that what we saw was a replica lighthouse because they had to replace it a bunch of times because it kept getting destroyed from the weather (which is actually kind of cool). Anyway because Lions Head was a bust we decided to keep driving all the way up to Tobermory because there's another one up there and the one that was saw was a little less than song inspiring.
That was a little more like it. There was a touristy sign close by (that I didn't get a picture of) that talked about all of the shipwrecks that were in the area and how dangerous the waters there were. Apparently people scuba dive to see the wrecks but I'm way not cool enough for that shit. We saw on our little map that there are two other lighthouses in this area so we went to an info centre to find out if there was a way to go see them that wouldn't cost us like $100 (there wasn't) and while we were there they told us about another lighthouse/museum that was "close" so we put it in Google Maps and like an hour later we got to this single lane dirt road that almost killed us. If you have a new car with a nice paint job, don't go see lighthouses.
This is the Cabot Head Lightstation. They turned it into a museum and inside there was a map of a ton of shipwrecks and that kind of jazz from all over the Peninsula. We could actually go inside this one so we went to the top and looked out over the water and the bluffs. It was actually gorgeous and we did a bit of a photo shoot for our blogs (keep an eye on Instagram for some of those).
At this point we'd been on the road for like 6 hours so we decided to head back. We stopped in Wiarton on the way back for some food and caught up with Willy. (Insert any and all "willy" jokes here... Insert any and all "insert willy" jokes here). He kind of gave me the stink eye the whole time. Whatever he's more famous than me and he knows it.
I am obsessed with Pizza Delight bread sticks and I think the most southern location is in Elora or something so whenever we go to the cottage I make Jessa come to get bread sticks with me. Why am I talking about this? Because I want you to send me Pizza Delight gift certificates. Also because on the way to Pizza Delight we pass through Southampton where there are more, you guessed it, lighthouses. There are actually 3 in Southampton, two that are right beside each other to guide boats inland and one on an island that we couldn't get to (yet).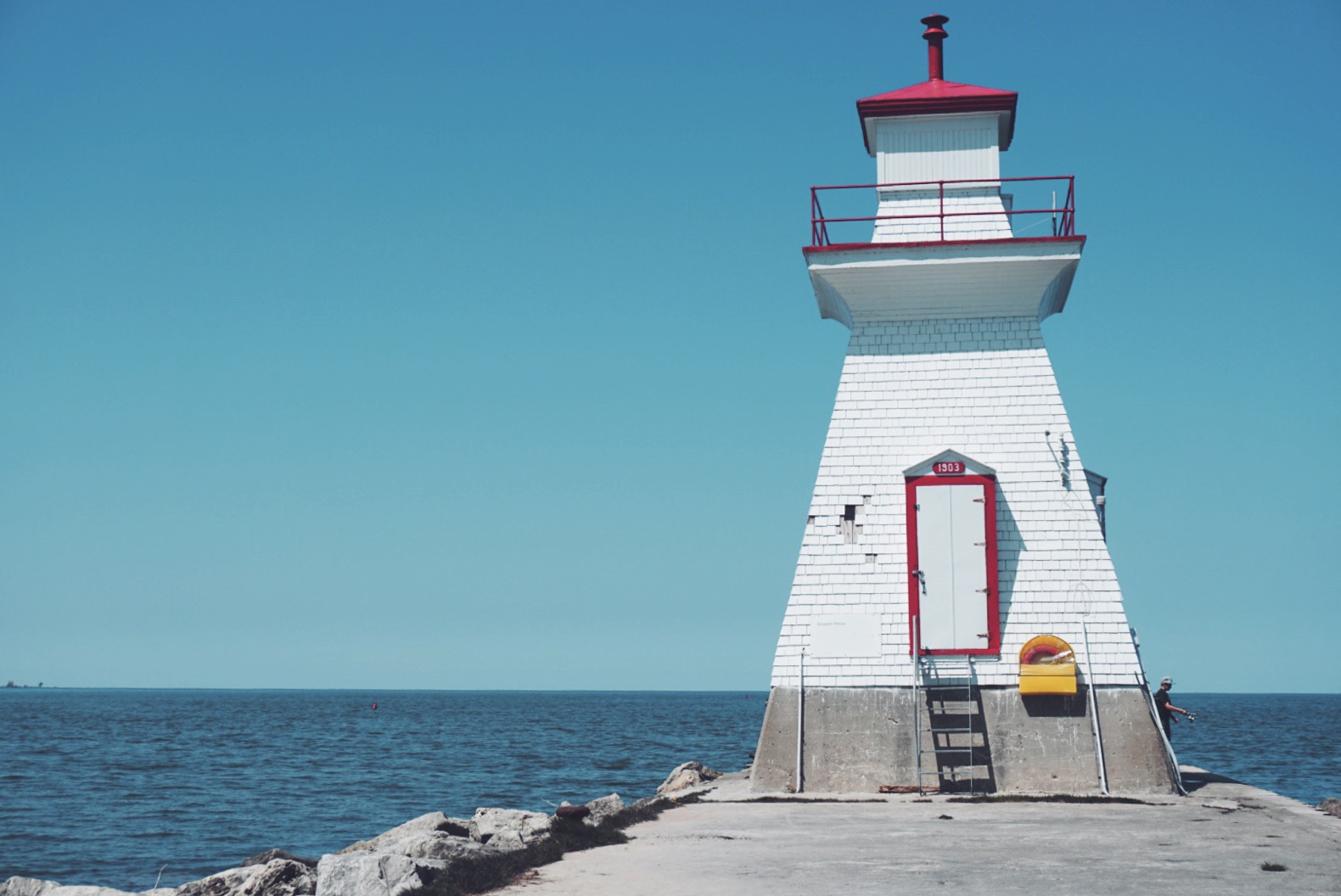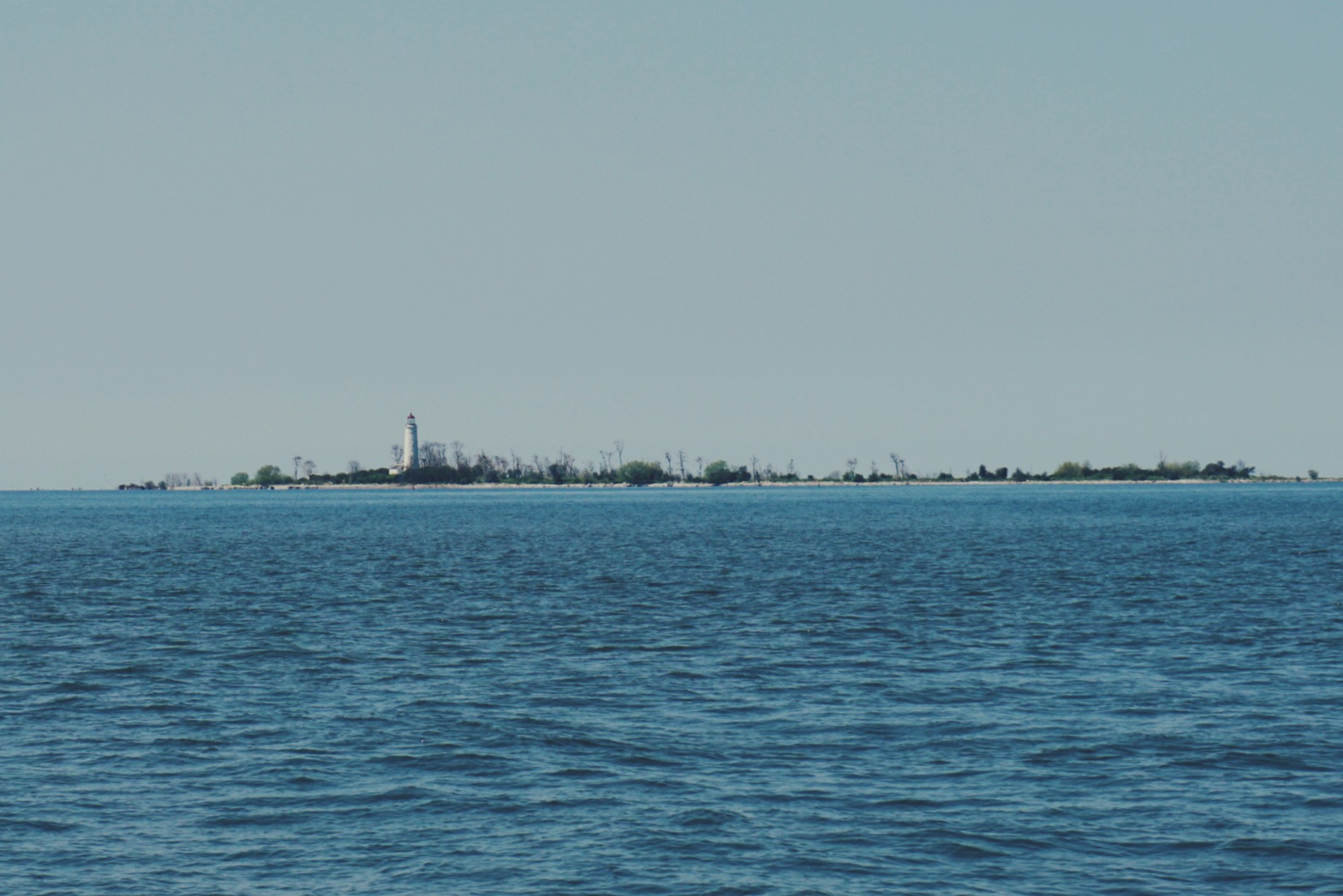 We didn't get a picture of the main land's twin but we got a long shot of the one on the island. Apparently it's a bird sanctuary now and you can take a tour and go up to the top if you pay some money or something. Next time I want to do that but our time and money was dedicated to Pizza Delight and it was a 10/10 meal. Breadsticks and a individual pizza with chicken and green peppers with bbq sauce for $6. Wtf. It was amazing. Moving on.
Next we planned on going to Goderich because it's the most pretty town in the world for some reason and I'd never been there. We thought our lighthouse adventure was over until my dad phoned me while we were on the road and asked me what we were up to. I told him we'd been looking at lighthouses all weekend and that we're on our way to Goderich... currently coming up on Kincardine. "Oh there's a lighthouse in Kincardine" he says, "just a little one, not a big deal". So we pull out or map and change course to find another Lions Head kind of lighthouse.
Alright well that's a freaking sweet lighthouse right there. I didn't go too deep into it's background or anything because at this point we were pretty tired and kinda wanted to just get where we were going. This is a museum now too but we didn't go inside. We hopped back in the car and pulled out our map, seeing that there was another one on our way to Goderich so we set our GPS to Point Clark.
Finally. This one was huge and apparently one of 4 "Imperial" lighthouses in the area. I think this is probably similar to the one on bird island so it makes me even more excited to go up into that one. We took a bunch of pictures here as all (keep an eye on Instagram). The fish smell was intense but it was worth it and then finally we were on our way to Goderich.
We got there and I wasn't overly impressed, I'm still not sure why it's called Canada's Prettiest City. Like, it's nice but there is also a giant salt refinery in it. It would be cool to have a cottage or something there... Probably cooler to have a friend who has a cottage there. We looked for ice-cream but didn't find any... but guess what we did find! Another fucking lighthouse
This one is on top of a huge bluff so it doesn't have to be super high. Cool little light box. After some more pictures we got Tim Hortons and drove for what felt like 11 hours back home.
So we only really intended to see one lighthouse this weekend but we ended up seeing a ton and we know where there are more to see next time too. All the stories of shipwrecks and storms have definitely inspired me to write something cool. I'm glad that we had this trip because, aside to it being a really cool experience, I'll have something to send to OAC when I resubmit my idea to show them that this is something that will really work for me and I can produce material that's not just about how sad I am or what girl broke my heart. I think this could be a path to becoming a much more mature and diverse songwriter and musician as well as a more mature person. I've never done much traveling but this is fun. If this is what one road trip around one part of Ontario can feel like, I can't wait to start seeing more of the country and eventually the world!